Becca Rawlings
I am a twenty year old gap year student, between college and university. I had neither traveled anywhere abroad alone or been to Africa before. I was looking to travel but to do something that would be useful to me and relative to my degree in textile design. I was looking for a tour company so I did not feel like I was doing it all on my own. When I found Aba Tours it just jumped out at me that that was what I wanted to do.

I wrote to Ellie enquiring about staying with a Kente weaver, traveling from the UK and was quite specific about my traveling dates. I was delighted when she replied " I can arrange anything you want to do Rebecca". She suggested a tailor made trip for me which I took.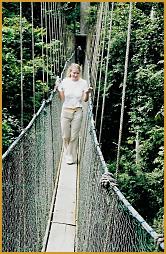 First of all I took a week long tour with guide Rodney. Rodney was Ghanaian, and I was amazed by his knowledge of his country and by how much he taught me in such a short space of time. He took me around the capital, Accra, on to Cape Coast to see the old castles of the slave trade, and up to Kumasi, Ghana's second largest city. He also took me to beauty spots like the Kakum national park where he took me on a mildly terrifying canopy walk in the tall trees of the rainforest.

Rodney was an outstanding guide. He filled every second with things to do, taking me to as many places of interest wherever we went that he could fit in, and was so worried I might miss something. He also ensured I had a taste of the nightlife and Ghanaian food. Due to the fact that it was just the two of us, I felt so well looked after and could choose what we wanted to do. Rodney is very good at what he does but also very sweet, he even met up with me the day I left three weeks after my tour and took me out and waited for the plane with me.

Even if it is the only time you will have in Ghana, I strongly recommend this tour, it makes a fantastic holiday. I got so much out of it and it really settled me in and gave me the background knowledge for my next three weeks in Ghana.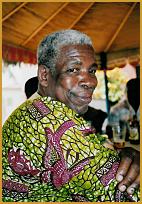 The second part of my trip was to stay for three weeks with a Kente weaver, Bobbo and his family, and take weaving lessons with him. This was just outside a small town east along the coast just a few miles away from the border of Togo. I was welcomed into Bobbo's family and despite the language difficulties at times, I felt at ease and cared for.

Bobbo was the most amazing character I have ever met and probably the most popular. He has a huge extended family and many, many friends so the house was always busy and I was meeting new people all the time. Remembering names became a problem and sometimes even faces, but it was great fun. The children were also brilliant, I learnd a lot just talking to them and they loved teaching me songs they had learnt at school.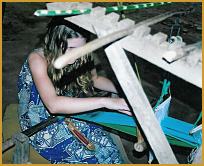 Every day I attended Bobbo's weaving school. I was lucky enough to be the only student because I had several master weavers and teachers to help me. I did have one main teacher, Kwami, who was a very gentle, patient man. I was taught all the processes, the history and the meaning of this amazing craft. By the end of the three weeks Kwami had me weaving strips on my own, I didn't touch on the skill and accuracy he had, but had created some great souvenirs by the time I went home.

Bobbo was also intent on filling my days up, so he took me out and showed me local beauty spots, Kente markets, and more importantly local bars. He also took me to the Volta lake for the day as he knew I wanted to see it.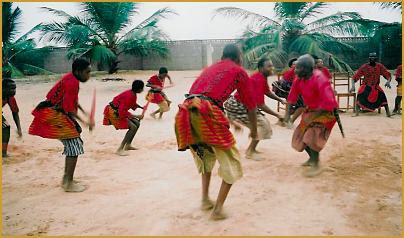 Probably the most exciting parts of my trips were when he took me to the funerals, occasions that cannot be compared with the British equivalent. Then the best day of all when he arranged for a huge group of drummers and dancers to come to the house. Just for me! I amazed myself by being talked into joining in, much to the amusement of those around me.

If you do take a trip to Ghana, even if you don't stay with him, I recommend a trip to Bobbo's place.

The craft is extremely interesting and the people are fantastic hosts. However I would recommend a multiple entry visa due to his position, just a few miles from the capital of Togo.

Ghana was like a different world to me and if I ever can go back I will. It is a beautiful place, lush green with a beautiful coast line and such a rich culture. I experienced hospitality and generosity like I have never had before abroad. I can also say that without a doubt I would go back with Aba Tours. They have such a personal touch, I really trusted them before I left, which is so nice when traveling somewhere like this - so different to home. I gained so much more from this trip from traveling with them that I believe it was worth every penny.
--- Back