Air Travel Journal - Sept 2-15, 1996, vol 24, no. 16
New England home to growth of ecotourism companies,
by Colette Bachand Wood.

If anyone is questioning whether ecotourism is growing, the opening of several new environmental travel companies in Massachusetts would indicate that it is. An interesting side bar to the story behind the growth is that the companies are all owned by women ... women dedicated to breaking down cultural stereotypes and sharing special places in the world. For Joan Hutcheon, president and owner of newly formed Caribbean Travel Network in Boston, starting her own ecotourism business meant "finally taking my passion and linking It to a need I see in the travel market." This month Hutcheon began marketing what she called 'natural history, cultural and environmental travel" to the Caribbean region. Hutcheon has been in the travel business for 10 years. She is currently president of the New England Caribbean Tourism Organization and in July left a position with Grand Circle Travel to form her own ecotourism company- 'I feel the market trend is shifting from sun and fun in the Caribbean to more of 'beyond the beach' tourism," she said. Her programs will offer accommodations in small hotels and inns which are locally owned. Her packages will include events with a 'people to people" component in which travelers interact with the locals, and a "give back to the people" aspect with a fund set up to support cultural projects in the Caribbean. Hutcheon hopes to draw much of her business from a web site currently under development by her partner Patrick Barrett. Conejo Company, Inc., a new Norwood, MA based company, will offer its first trip this January called 'Adventure & Yoga in Dominica.' Inez Stein, Yoga instructor and operator of the company, says that while visiting Dominica in past years she saw a world which inspired her to "do something to preserve all they have in Dominica.' Accommodations on her trips are at the Papillote Wilderness Retreat near the Morne Trois Piton National Park, where she will offer Yoga lessons every morning and evening. Her program in- eludes bird watching, snorkeling and hikes with local guides. The Papillote Retreat, although owned by an American, employs over 20 locals who serve native cuisine at the retreat's dinning room. 'I want to offer traveler's a chance to get an appreciation for the environment and learn a little about nature," Stein said. Ellie Schimelman of ABA Tours in Brookline, MA has taken three tour groups to Ghana in Africa in the past year and a half to learn about pottery, basket weaving, bead work and the local culture. On her trips, travelers stay in local villages; sometimes in native's homes and sometimes in extra huts or buildings throughout the village. Schimelman, a former arts and crafts teacher, says she started ABA Tours to share her enthusiasm for Ghana with others. She used the name ABA for her company be- cause it is her name in the Ghana language. She explained that Ghanaians name their children based on the day of the week they are born. Schimelman was born on a Tuesday and ABA is their word for Tuesday. 'Ghana has a wonderful art tradition. I think so many people lump Africa together and that many stereotypes of Africa are negative,' she said. 'On our trips we do what the locals do ... I like for people to see what it is really like.' Schimelman recently purchased land in Ghana and is planning to build a small school and living space where Americans and Ghanaians can work together.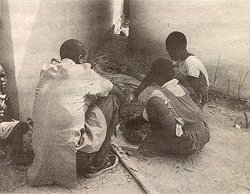 Travelers on trips with ABA Tours Brookline, MA participate in arts and crafts with Ghana locals. Here, Ghana children are learning pottery. (photo by Ellie Schimelman)
Another new Massachusetts company, EcoPassages based in Topsfield, hopes to bring its first tour to St. Vincent and Grenadines this fall and take a second to the Dominican Republic this winter on board its schooner 'Kathiyn B.' All packages will focus around ecological and scientific exploration and will include visits to places like an offshore reef, boat excursions to Los Haitises National Park, visits to wetlands, snorkeling, hiking and of course swimming. Kim Stevenson, president of EcoPassages, said that she opened her company because she wanted to do something she enjoyed and believed in. "Ecotourism is the fastest growing segment of the tourism industry,' she said. As her brochure states: tours will 'provide a forum to explore the status of current environmental conditions in relationship to larger social, economic, and develop- mental factors impacting the health and future of the local and global environment." If this kind of tourism and these new travel companies are indeed the trend for the future, ecotourism could prove to be the catalyst for change we, had hoped for. --- Back